By  Cody Davis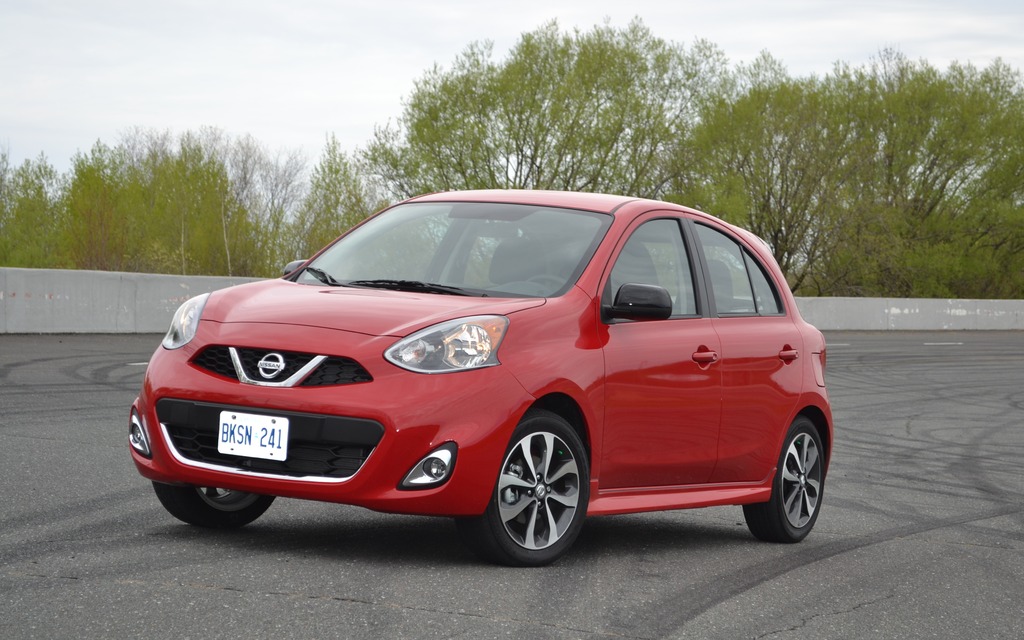 The 2015 Micra happens to be in everyone's price range.  Starting at a price tag of $9,998. It truly is a pick your colour and go. No other manufacturer comes close to the $10,000 price tag. Chevrolet's cheap and cheerful Spark? $11,945. Hyundai's position on being the best value? The least expensive car they sell is the Accent. Which starts at $13,549.
Having driven a Micra in the mid 90's. I was ecstatic to hear Nissan was bringing back the Micra. Even in the mid 90's and with the 2015 model. Micra does drive beyond its sticker tag. With 109 hp wrung from its little 1.6-litre four-cylinder, the Micra is borders on spunky. Enough power to  keep up with the Vancouver traffic; there's enough torque (107 pound-feet at 4,400 rpm) that the engine doesn't need to be buzzed to the point of possibly exploding. If anything, the Micra's noise, vibration and harshness (NVH) is more subdued than most of its competitors.
Mating the four-cylinder to the four-speed automatic (more cogs and even a CVT trannie were considered but a more sophisticated autobox would have raised the Micra's MSRP) slows things down a little but it never feels lethargic.
Inside the Micra. Can call it simple and intuitive. Everything was where it should be and easy to find, but the lack of a centre console made it feel a bit bare and inconvenient when wanting to put your keys or small items away.
The dash is well laid out, and easy to read with the interior fit and finish receiving high marks. Upgraded charcoal cloth upholstery and trim comes standard with the SV model. Driver's seat bolster was firm but once you're adjusted. Definitely comfortable.
Nissan is focused on acquiring a new clientele, from Canada, namely those for whom a poor credit rating and other fiscal hardships might find them shopping used rather than new. Besides the existing New Graduate and New Canadian financing program, Nissan Canada is offering a new Micra Opportunity financing plan which are open to those who might not qualify for loans through traditional programs.
Of course, it carries a slightly heftier interest rate — 9.98% versus 5.99. But, according to Andrew Wilton, chief marketing manager for Nissan Canada's small cars, the difference in monthly payments on a base $9,998 Micra over 60 months is only $20 a month — $201 versus $221. That said, Nissan does offer zero per cent financing over 84 months on its larger, better equipped Versa Note that is not available on the Micra, meaning that, at the top of the Micra's range, the uptick to a Versa is not as great as that attention-grabbing starting MSRP might indicate.
The lesson, of course, is that bargain-hunting is still a skill for the informed and dedicated. It's not as easy as simply assuming that such a dramatically low starting MSRP will always result in dramatic savings. Qualifications aside, however, it cannot be denied that Nissan is now offering the least expensive new car in Canada. And, even when its upscale variants are compared with similarly priced competitors, it more than holds its own.
The Specs
Type of vehicle Subcompact hatchback
Engine 1.6-litre fout-cylinder
Power 109 hp @6,000 rpm, 107 lb.-ft. torque @ 4,400 rpm
Transmission Four-speed automatic
Brakes Disc front, drum rear w/ABS
Tires P185/60R15 all-season tires
Natural Resources Canada fuel economy (L/100 km) 6.6/8.8/7.7 highway/city/ combined
Price (base) $9,998 plus freight and PDI
Destination charge $1,400
Standard features Steering wheel audio controls, cruise control, air conditioning, power windows, power locks, remote keyless entry, rear window wiper w/washer, 6-way adjustable driver's seat, AM/FM/CD/AUX-IN four speaker audio system
Options: Automatic transmission, pearl metallic paint, Convenience Package – 4.3" display with four-speaker audio system, USB connection for iPod interface and other compatible devices, rearview monitor.
Competitors: Chevy Spark, Mitsubishi Mirage, Toyota Yaris, Hyundai Accent, Kia Rio
Strengths: price, performance, Micra Opportunity Program
Weaknesses: choosing an automatic transmission really bumps the price up
Report Card (out of 10):
Fuel Economy: 7 – On par with competitors
Equipment level: 9 – Best-priced car in the country with Bluetooth, USB and A/C
Price: 10 – Lowest-priced car in Canada
Styling: 8 – It has European flair
Comfort (front): 8 – Supportive seats covered in quality cloth
Comfort (rear): 8 – Massive headroom for two tall humans
Handling: 8 – Steering is direct, absorbs the bumps, and drives like a larger car
Performance: 8 – Don't let the hp fool you, this little guy can launch
Storage: 7 – 60/40 folding seats and a very deep glovebox
Overall: 9 – The Micra is refreshing, in both price and minimal-ness; a great car-car.
Related Posts: